Organic Export Quality Pitaya
One of our prized produce is our Organic Export Quality Pitaya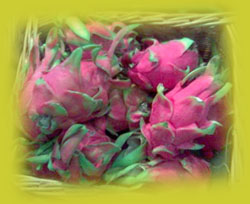 Our dragon fruit is of a type called, Hylocereus polyrhizus.
This means that it belong to a premium family of pink skinned dragon fruit with red flesh.
Comparing with the other types like Hylocereus undatus which is pink skinned with white flesh. Polyrhizus is said to be more premium as it is harder to plant and produce due to the needs for specific floral control during its bloom state.
Also the Polyrhizus sp. has alot more antioxidants compared to all the others pitaya type !
We also stress that all our pitayas are 100% organic and uses volcanic rock dust "Progrow®" during the plantation process.
Organic Pitaya Enzyme
One of our more refreshing product is our "Pitaya Enzyme".
Its a refreshing drink made from our premium organic quality pitaya, and its fermantated to near wine-alcohol levels.
This is a very nutritious drink as it contains all the vitamins of pitaya fruit and the wholeness of the pitaya seeds.
This is one product that sets a standard for the exotic wine industry. Although we are selling this locally, we plan to export this premium product as soon as we have enough supply to go around !
Copyright 2006 - 2014 © R.L.W Corporation Sdn. Bhd.